Most Modest is a product design studio and online shop specializing in tech and home goods. As a marketing strategist, I worked with the founder to define brand messaging as Most Modest expanded from a design studio to a lifestyle brand, crafting website copy (about page, team bios) and product copy (Baxter, Kona) in the process. In addition, I developed a promotion strategy (press, social media, and email) for the opening of the online shop and two product launches.
Simple in design and big on possibility, Baxter presents a cleaner way to manage your cables, class up your parking meter fund and keep your favorite pen right where you need it. Bedside or desktop, Baxter is an essential storage accessory for the modern-minded crowd.
How I helped:
Press release
Product copy
Website copy
Promotion strategy
Social media & email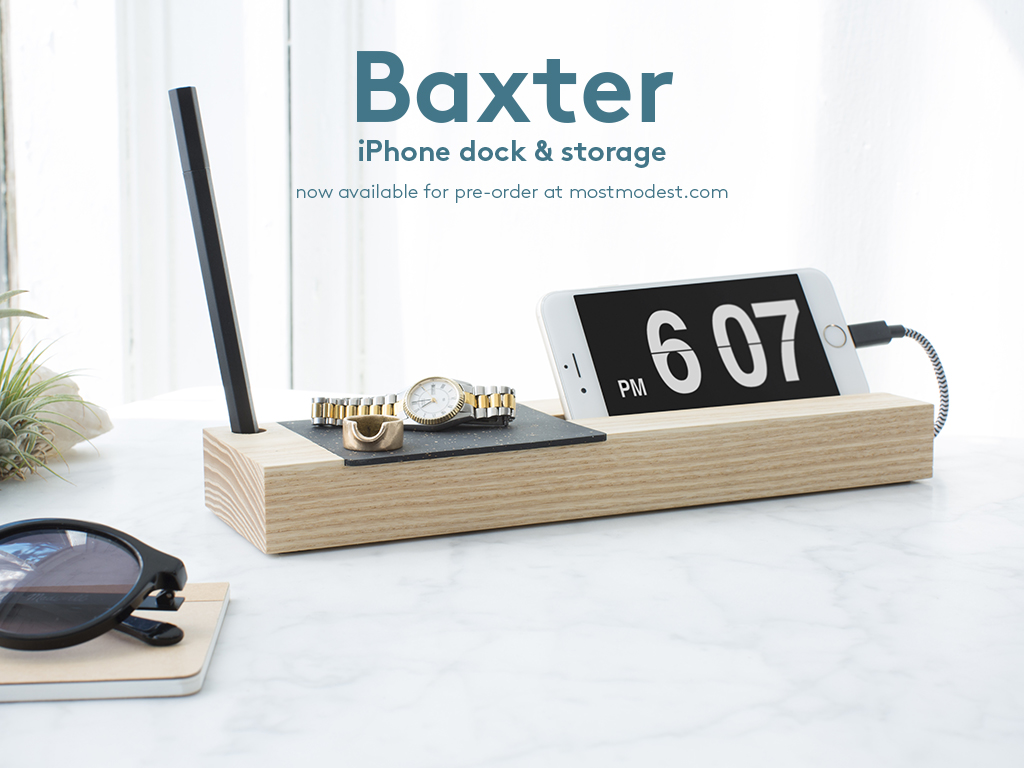 Crafted from American hardwood, Baxter is made to last. Talk about easy to love.
CATALOGUE DETAILS:
A Place to Stash
Streamline your space with a concealed storage compartment. Made from a unique blend of rubber and natural cork, Baxter's lid doubles as the perfect soft landing pad for valuables.
End the Tangle
An integrated cable channel on the bottom of Baxter's natural wooden base keeps your cable in place and off the floor.
Pick a Color
Available in three color options to compliment any environment so you can match your mood and your interiors.
Made for Each Other
Designed for iPhone 6 with and without a protective case. Also plays nice with others. Just be sure to reference dimensions to determine if Baxter is compatible with your device.